STONE GATE, the circle is complete
A great circle made of dry-laid massive stones
With STONE GATE, the ancient architectural figure of the arch consisting of dry-laid elements, inherited from the Roman Empire, is doubled for the very first time, to form a circle.
[row]
[col type="1_2″ class=""]
A cutting-edge architectural-engineering project
STONE GATE is a piece of work designed by Raffaello Galiotto and presented by Lithos Design for the first time at the '100% Gravity' exhibition in Verona, for which designers and manufacturers were asked to experiment on the field of natural stone gravity: the circle is amazingly made of dry-laid hewn stones, each one weighing 5 quintals, bound together in a self-supporting structure only through compression. The natural stone ring (made of Bardiglio Nuvolato di Carrara marble) is 3,80 m high, 1,20 m deep and has a total weight of 27.300 kg.
[/col]
[col type="1_2″ class=""]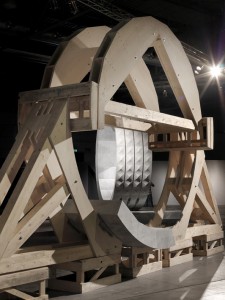 [/col]
[/row]
A work the public can experience
STONE GATE is a creation that the public can really experience, as one can cross it, walk on it, stop by it. One can live it, try it out, listen to one own's voice amplified within its diameter. STONE GATE is a magnetic circle that raises the primitive human instinct before huge-sized works, that is, the impulse to measure oneself, to feel hopelessly small.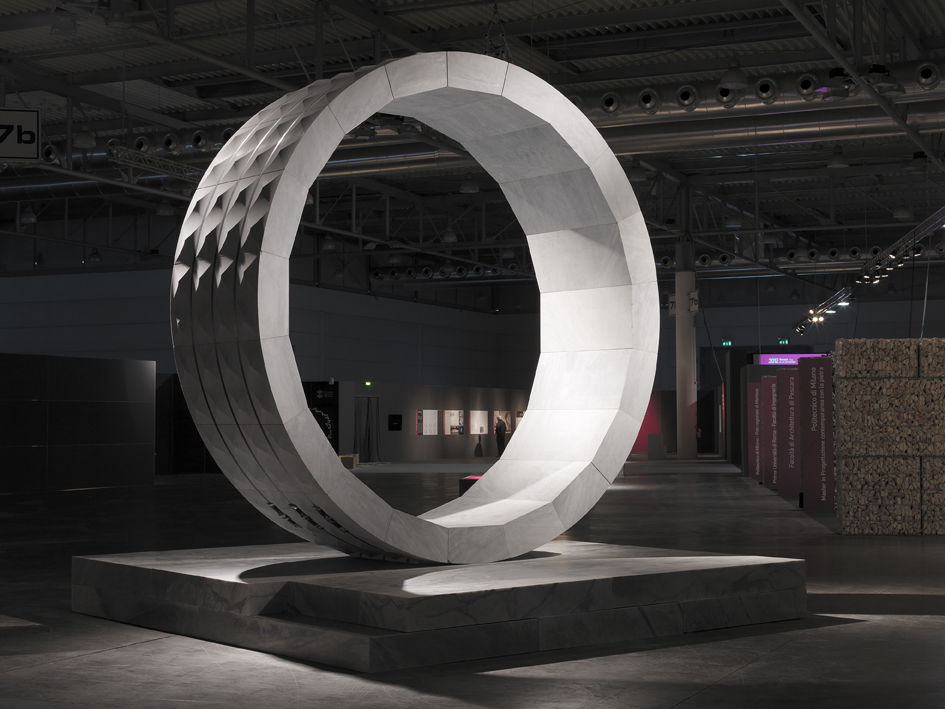 [row]
[col type="1_2″ class=""]
Vitruvian Man
STONE GATE induces visitors to instinctively stretch their arms wide open, as if to measure themselves against the majesty of this object. And they become sort of Vitruvian Men, comparing human proportions, so perfect according to the will of Nature, with the perfect proportions of this large stone circle, as the circle is the archetypal symbol of the most perfect formal harmony. As a matter of fact, Leonardo himself with his most popular drawing restated how mathematics underlies any form of art aimed to reproduce the perfect beauty of nature, in the same way in which today it underlies the most cutting-edge industrial technologies to produce modular, repeatable, usable design. Thus, it is no wonder if this association of ideas between this stone circle and Leonardo's sketch came unconsciously to the mind of many beholders.
This unexpected experiential dimension of STONE GATE almost puts this design work on a level very close to that of contemporary art.
Italian project
STONE GATE is an all-Italian initiative, from conception to design planning, throughout every step of the production process.
[/col]
[col type="1_2″ class=""]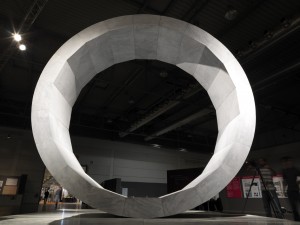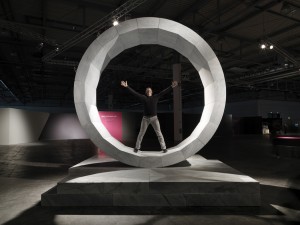 [/col]
[/row]
Technical information
STONE GATE represents a challenge that balances between mass, weight and gravity, and which appeals for its articulated and complex design. The circle is 3,80 m high and 1,20 m deep, and is designed with a system of 20 modular dry-laid hewn stones, combined in a structure that becomes self-supporting thanks to the state of compression given by the post-tensioning of the steel cables circling it and embedded in it. Every hewn stone weighs 500 kg, the total weight is then 27.300 kg and the total volume 6,5 cbm.
The material chosen for Stone Gate is Bardiglio nuvolato marble, a compact lithotype of a dark grey colour with thin white-grey veins. Its colour is particularly appreciated for artistic, architectural and urban design applications. The styling and technological know-how of Lithos Design is also evident in the exterior surface of the work: indeed, the Bardiglio nuvolato modules will be finely decorated on one side with an ornamental 3-D texture specifically designed to ensure perfect styling appeal from a formal perspective, with a strong scenic impact.